Amy P. Kerr

Associate Dean of Students & Director of Residence Life

Pryzbyla Center 353
202-319-5619
kerra@cua.edu

Amy has worked in Residence Life at Catholic U for over a decade. In her current role, Amy oversees the direction of the Residence Life Team, assists in general management of the residence halls and provides support to students through her work as a dean. Amy received her M. Ed. in Student Affairs Administration in Higher Education at Ball State University. In 2012 she received her M.S. in Library Science from The Catholic University of America, and in 2020 completed her M.NR from Virginia Tech University. In her free time Amy enjoys traveling, and spending time with her family around the DMV and outside!

Mack Bowen

Community Director, Central Neighborhood

202-319-5850
bowenm@cua.edu

Mack is an alum of Catholic University as well as the Residence Life Family. After completing his Master of Education in Higher Education at Merrimack College, Mack returned to his alma mater to lead Central Neighborhood.When Mack has free time, he enjoys attending on campus events, reading and exploring DC.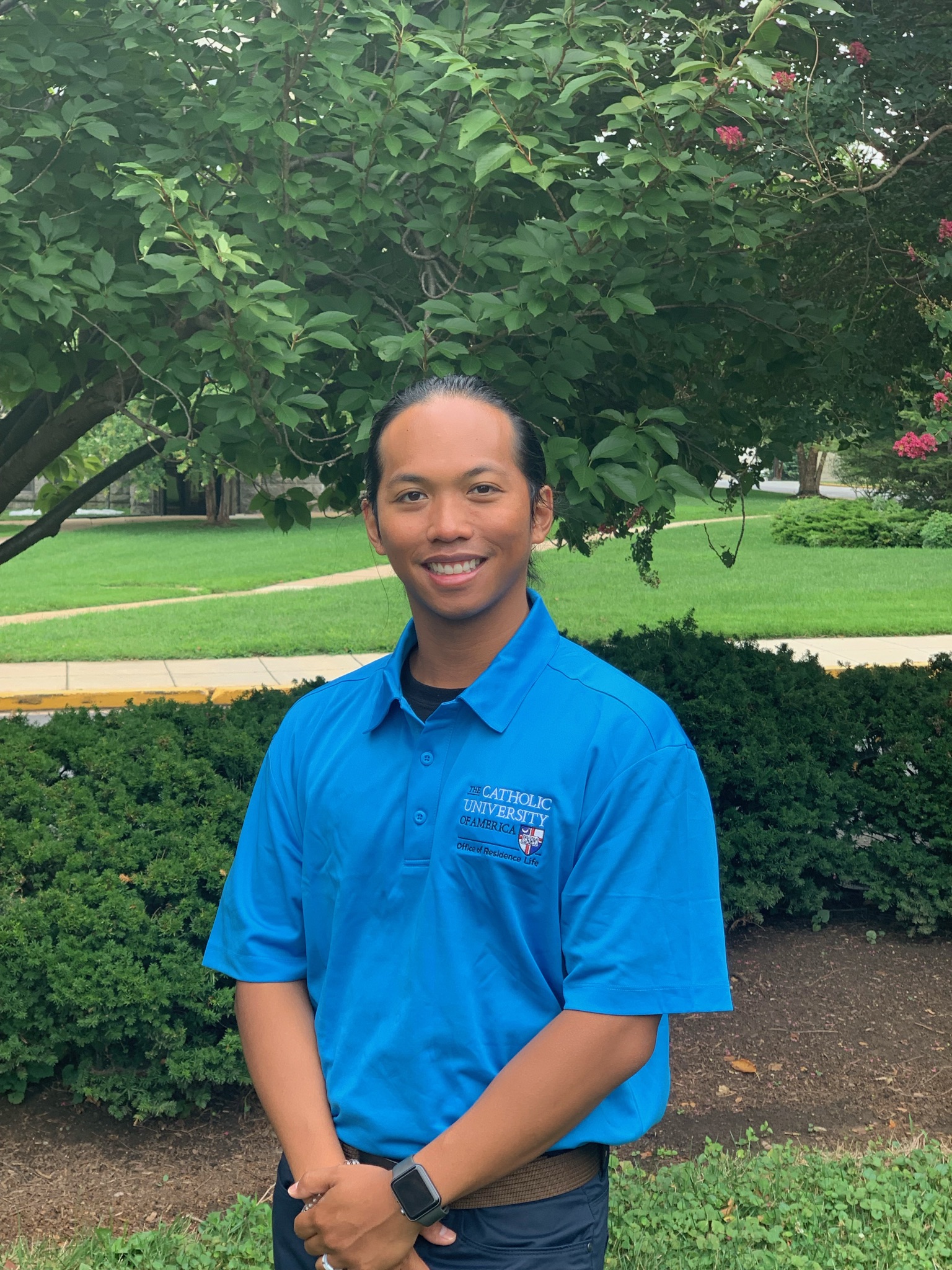 Community Director North Neighborhood
202-299-2500
maddatumq@cua.edu
Mat Maddatu directs the daily operations of the newly combined North Neighborhood, comprised of Regan, Ryan, Flather, Millennium North and South Halls. He is originally from Brick, New Jersey. He received his B.A. in Psychology in 2012 and Master of Catechesis in 2014 from The Catholic University of America. He was involved with Residence Life during his senior year as an RA in Caldwell Hall and during graduate school as a Community Development Assistant in the Honors Residential Community, North Neighborhood One and Opus Hall. In his free time, Mat likes to read, play sports, and take photos while exploring DC.
Victor David

Community Director, Opus Hall


202-299-2881
davidvn@cua.edu

Victor David joined the Residence Life team in November 2016. Originally from Joliet, Illinois, he graduated from Catholic University in 2014 with a B.A. in Politics, and in 2017 with his M.S. in Management with a concentration on leadership development. While an undergraduate student, Victor served as a Resident Assistant in Flather Hall during his junior year and McDonald House as a senior. Outside the office, he advises Colleges Against Cancer and Redline A Cappella. Victor also enjoys visiting museums, watching documentaries and baking.

Frank Schleimer

Community Director, Centennial Village 


(202)-319-5720
schleimer@cua.edu

Frank joined the Residence Life team in July 2018. Originally from Brooklyn, New York, he graduated from Fordham University in 2014 with a B.A. in History and Political Science. Most recently, Frank graduated with his M.S. in Higher Education Administration with a concentration in Student Affairs from The George Washington University in 2018. Frank worked as a Residence Director for two years at The George Washington University, in addition to internships at the Summer Institute for the Gifted at Yale University and in the office of Residential Living at Georgetown University. In his free time, Frank enjoys taking park in and watching sports, exploring DC, and listening to new country music.